Meet Our Acupuncturist
Tim Crea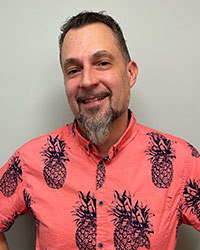 Tim Crea is a nationally board certified acupuncturist by the National Certification Commission for Acupuncture and Oriental Medicine (NCCAOM) and is licensed in New Jersey. His desire to practice acupuncture stems from his own relief found from the use of acupuncture.
Tim Crea brings to the practice a wide range of knowledge, both in Eastern Medicine, as well as Western Medicine and Science. Classically trained in Biochemistry, with a heavy background in clinical science, Tim believes in obtaining reproducible results with his patients. The necessary synergy between acupuncture care, diet, breath, supplementation, and chiropractic, is surely one of Tim's goals when treating his patients. As a long-time martial artist, Tim understands pain and injury.
One of the most important aspects of healing is listening to your patients, this is paramount in the care given by Tim and all of our clinicians. If you are looking for a treatment to improve pain, help heal an injury, help with restless nights, relax or simply increase your vitality, Tim recommends making an acupuncture appointment. A multifaceted approach is key within Tim's treatments, as all patients are unique. Please feel free to stop into the office for a visit, or call with any questions or concerns.
Give our Hamilton chiropractic office a call so we can help you take your first step towards better health.
---
Meet our Acupuncturists | (609) 586-6300