Meet Dr. Michael Mauro Rabito
Hamilton Chiropractor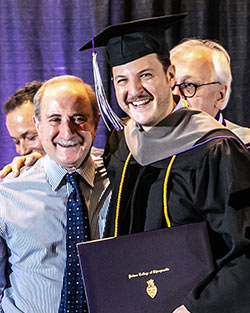 Dr. Michael Mauro Rabito is a third-generation Chiropractor that was taught from a young age the profound impact that chiropractic care can have on someone's life.  He is certified by the national board (NBCE) and licensed in the state of New Jersey. He places a high value on the healing and re-connective ability of the Chiropractic adjustment to facilitate pain reduction, functional improvement, and life expression.
Michael is passionate about continuing to expand his knowledge of the science, art and philosophy of Chiropractic that allows his patients to thrive without drugs, surgery, or fear of participating in life. Dr. Rabito graduated Magna Cum Laude from Palmer College Florida Doctorate program and is regularly training in the latest Chiropractic adjusting techniques as well as deep soft tissue work including Proprioceptive Neurological Facilitation (PNF), Active Release Technique (ART) and Instrument Assisted Soft Tissue Mobilization (IASTM).
Dr. Rabito takes his patients through phases of care that include in-office and at-home therapeutic exercises while placing a strong emphasis on the mental, emotional, and physical benefits of meditation and diet to his patients. Dr. Rabito's patients' unique needs are met with a treatment plan that evolves along with them and guides them to optimizing their health.
---
Meet Dr. Michael Mauro Rabito | (609) 586-6300